I have to give a little shout out to my Rabbit Romp Exchange partner...
Kyla from Funky Polkadot Giraffe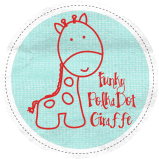 Who by the way authors one awesome blog, I love her style!
She makes me smile, she makes me want to do things, and she makes me just happy.
I was SO excited to have her as my partner...
I received the most perfect gift for a house full of girls!
Aren't they AWESOME!!!
Here's the story...
My 3 yr old and I returned from dropping off the 5 yr old at school to find a package waiting on the porch.
Giddiness followed by a mad rush to find something to open it with.
I opened the box to find these super sweet hair clips and headbands, a darling little spring green metal bucket filled with yummy treats (chocolate covered marshmallows!) and best of all...
SWEDISH FISH EASTER EGGS!!! What?
My heart be still, how did she know that swedish fish are my true weakness in life?
I'm pretty sure I didn't tell her, oh but the joy that filled me! I immediately hid them so I could savor every single one later that night. (And I did, and they were heaven!!!)
In my excitement, I forgot to snap a picture before the treats were devoured by said 3 yr old and my sister, okay, and me!
And I would have posted this earlier but had to track down the hair goodies from my daughters who each claimed one as soon as they got home from school.
They have worn them to church, to school, to play dates, to the store, I even found one of them wearing the pink headband in bed the other night.
The compliments have poured in, I can't blame them, they are SO cute!
THANK YOU

Kyla-you made my exchange so fun and very special!