WAHOO! IT'S FRIDAY!!!
(and I for one could not be happier-it's been a llll-oooo-nnnn-gggg week)
I have had so much fun checking out the last TWO TGIF parties-what an amazing bunch of ideas. THANKS to all of you that linked a project.
I've added so many things to my "must try" lists, I love it!
So as promised, a few of my faves from two parties ago...
I have pre-school on my mind, as in trying to decide if I should send my soon to be 4 yr old somewhere else or teach again. So this really stuck out to me, that and it's just a FANTASTIC idea!
Letter/Number Sorting Game from milk caps...
You can find the details at
Too Much Time on My Hands
And then this just had my two magic words...
"

Cherry Coke

" Float Cupcakes
You can find a link to the recipe by visiting
Sitting at Our Kitchen Table
And then last week!!! What a great, and I mean

GREAT

party!
I have to say there were so many amazing Father's Day ideas shared. I used some, and pinned them all to use again later, they were that good! So if you shared one-YOU ROCK!!!
I'm working on sprucing up my back patio and yard so these next few ideas thrilled me as I had been contemplating similar thoughts, and now I have the kick in the pants I needed to get it finished!
Bamboo Placemat Rug
Jen at Domesticated Nomad
gave me the perfect answer to my need for an outdoor rug that can withstand the dog and the kids getting in and out of the pool. Super easy, inexpensive, and you can make it any size you want! Love that!
I want a firepit.
My girls want a firepit.
Susan from Homeroad shares exactly how to get one!
(hugs and kisses to you!!!!)
And one more dose of cuteness...we're heading to the beach next week.
We need these:
Get all the detes from Kyla of
Funky Polkadot Giraffe
(via a guest post on Tatertots & Jello cause she's cool like that! Seriously...)
If you got a shout out, grab a button if you want one-
(it's pretty cute, you should want one!)
Okay, let's get this party started!
No rules, just fun. Be nice to others and keep it friendly-that's all I ask.
Share whatcha got cause we want to see it...
By linking you allow me to feature your greatness at a later date giving all credit to you with a link back to your post of course.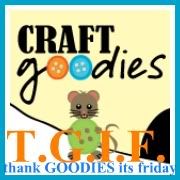 Have fun, can't wait to see what you've been working on and...
Happy Crafting!!!