I can say I have
LOVED
my first full week of summer.
There is just something so freeing about not having to set that crazy alarm clock.
I've been busy enjoying the sun, the pool, my kids, and surfing the internet. There are just amazingly talented people everywhere. I love that I can bring them into my own little world with the click of a few buttons. I also love that I get to share a few of them here with you.
Here's a few of my favorites from last week's party:
I can't decide which I like more, the super cute birthday crown, or the super cute model!
Why wasn't I a cool enough mom to give my munchkins cute 1 yr old goodness like this?
Go visit Cherished Bliss to see more picture of both of these cuties!
So having a family of seven has lead me to believe that laundry is a form of torture.
I need a sign like this to bring a little humor into my never ending world of dirty towels and lost socks...
Still makes me smile-even a week later!
Share the humor and the tutorial with Lesley from Life of the Cocktail Party
I'm still adding ideas to my list of summer activites for my girls and this is just perfect for those breezy Texas days of late...
Who doesn't love a pinwheel? Especially one you've made yourself.
Get the 411 on this "easy peasy" project at
Clever Faeries
If you found yourself here, feel free to grab a button.
Thanks for linking and thanks too for being so darn awesome!
(Click

HERE

for the code!)
Okay! On to this week's fun and good times.
link up to 4 posts, anything goes so make it great!
Share the love by visiting others and telling them how great they are-think of it as a virtual HUG, you know you want one.
By linking you allow me to feature your greatness at a later date giving all credit to you with a link back to your post of course.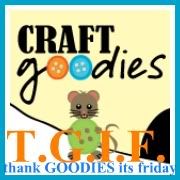 Have fun, can't wait to see what you've been working on and...
Happy Crafting!!!