I'm sitting here giggling as I type this. I'm seriously such a dork-but this really makes me happy.
This is like one of those little magic tricks that is so simple but oh so brilliant that you kind of don't want to tell anyone how easy it is so they will continue to think you are amazing-know what I mean?
But in all honesty someone else shared this with me(thanks Jenni!) so it's I'm feeling the need to pay it forward.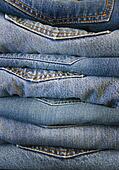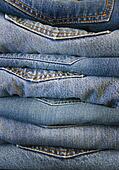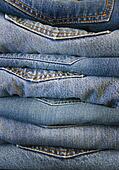 Here's the deal, you find a great pair of jeans.
They fit in the waist and thighs, make your booty look hot, and are just the right color and weight- only problem, they are about 4 inches to long! (Or 8 in my case)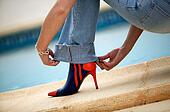 So do you walk away sad and jean-less, buy a pair of platforms to wear with them, or do the old tuck and roll? Well ladies, kiss all of those options good bye cause I'm here to save the day!
Go for it, buy them-don't feel bad about it cause in about 10 minutes they are going to be the most perfect pair of jeans you've ever owned.
Put your new loves back on and roll the cuff to where you need the hem to be or have a friend pin them for you. Take them back off and cut the excess fabric off.
Take the piece you just removed and cut off the already sewn hem about a 1/4 inch above the stitches.
Pull the hemmed fabric apart, revealing the center threads and cut them all the way around the hem. Remove the cut threads from the hem piece.
Next your going to turn the hemmed piece so that the side that was against your leg (or the inside) becomes the new outside and the outside that has the cut edge becomes the new inside.

Before the flip-the raw cut edge is on the outside

After the flip-the raw cut edge is now on the inside and the smooth edge is on the outside.

From there you're going to make a "hem sandwich". Open up the hem piece and place the jean leg inside the fold of the hem being sure to match up the side seams. Fold the smooth edge of the hem up over the front of the leg. Pin into place.
Restitch the hem onto your jeans following the old thread channel and your done.
In less than 10 minutes you can have awesomely hemmed, non-bulky, no rolls made to fit jeans!
Use a matching thread to hide your hem or be bold and match your thread to that of the jean seams.
Your friends will be dying to know where you shop because you always have perfect fitting jeans!!!
Just smile, enjoy the moment, and then share the secret too...
Happy Crafting.