Wondering what the heck???

TWO

linky parties in one post???
Don't worry the first is just a reminder that the WYLTC? link parties will now and forever be held on the WYLTC? blog site.
But, since you're already here-feel free to link up your project cause we'd all LOVE to see it, and then head on over to Wood You Like to Craft? to be sure you're entered in all the fun!!!
We made it through another week!
And this one was a scorcher here in Texas, we hit 101 this week!
Thank goodness for swimming pools and air conditioning.
But all that hotness going on outside led to a lot of sofa surfing inside, here's a few of my favorites from last week-
So I laughed out LOUD when I saw this-only becasue I say something very similar to my girls all the time! I love the colors and just love the idea of having it on my front porch!
This next little gem has me digging for my hubster's old ties...
I just think it's the darn cutest thing EVER! What a great way to let the world know you have a totally "TIE"-riffic dad inside!
...and one more piece of fantasticness...
Summer is my clean and organize season, "Spring Cleaning" just doesn 't work for me.
This idea however does! I love the chalkboard/cork board on the cabinets-OH! the possibilities.
Okay peeps! Let's party...
I keep finding myself hating to list "rules" every week, I'm leaning toward I'm just thrilled, (really thrilled) that you link and share your greatness with me!
So on that note...link away...
anything goes so make it great!
Share the love by visiting others and telling them how great they are-think of it as a virtual HUG, you know you want one.
By linking you allow me to feature your greatness at a later date giving all credit to you with a link back to your post of course.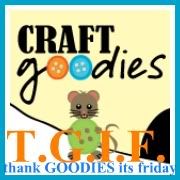 Have fun, can't wait to see what you've been working on and...
Happy Crafting!!!