Okay, I have a confession to make before we start...
I've been so busy, I didn't get a chance to check out last week's party.
Total looser, I know.
You wonderful ladies that take the time to link up here every week deserve some recognition-
and I failed.
My oldest daughter has been gone since Saturday and I've been working on finishing her bedroom.
What have I learned?
That unlike all the make over shows on HGTV-you can't do it in a day!!! And you should have friends over to help.
So forgive me please, I'll share some favorites of last week's party along with this week's party next week! Wow, that was a mouth full...
Let's see what you've got!
anything goes so make it great!
Share the love by visiting others and telling them how great they are-think of it as a virtual HUG, you know you want one.
By linking you allow me to feature your greatness at a later date giving all credit to you with a link back to your post of course.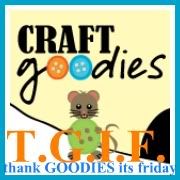 Have fun, can't wait to see what you've been working on and...
Happy Crafting!!!