Hello there friends!
Happy Monday to you all, hope your weekend was full of rest and fun. Just a little quickie to share with you today. I found these little cuties a while back and immediately fell in love.
from wipkits.blogspot.com
Can you think of a little munchkin that wouldn't love getting one of these? So much fun! And how perfect for a class Halloween treat.
My kiddos are super picky when it comes to any sort of "trail mix" so I've been searching for the perfect one and think I might have found it...finally!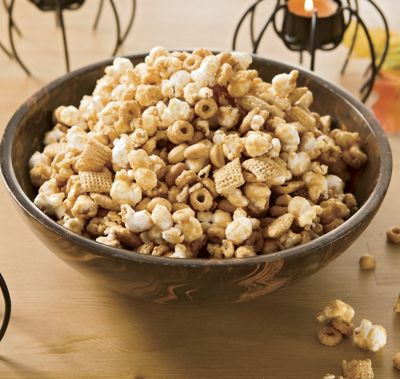 recipe from CountryDoor.com

6 c. freshly popped popcorn
2 c. Rice Chex ®
2 c. Cheerios ®
1 c. salted peanuts
1/2 c. butter or oleo
1 c. brown sugar
1/4 c. light corn syrup
1/4 tsp. baking soda
1 tsp. vanilla

Mix popcorn, Rice Chex, Cheerios and peanuts in a large bowl. Preheat oven to 250 ° F. Melt butter in a large saucepan; stir in brown sugar and corn syrup. Heat slowly, stirring constantly, to boiling. Cook without stirring another 5 minutes. Remove from heat; stir in soda and vanilla. Drizzle over popcorn mixture and toss until evenly coated. Spoon scramble into a shallow pan and bake, stirring several times, for 1 hour. Cool. Store in a tightly covered container.




Still going to have to omit the peanuts but the rest is a keeper! Let me know if you try it too.




Happy Crafting.