As summer is winding down I'm finding myself seriously craving fall.
It has been so crazy hot, I'm anxious for cool(er) crisp nights and brisk morning walks to school.
I even pulled out a few of my fall decor pieces-crazy I know!
So what have you been craving in the craft department these days? With two weeks of no party I'm sure you've all got oodles to share and I'm so ready to see it.
-That, and I'm hoping a few of you remember that I even host this little party...
So let's go! It's the weekend, time to sit and surf your greatness...
No rules

,

just fun

. Be nice to others and keep it friendly-that's all I ask.
Please visit each other and comment where you can, we all need a pat on the back sometimes!
Get the word out that this is the place to go and let's see this party grow, grow, grow!
Share whatcha got cause we want to see it...
By linking you allow me to feature your greatness at a later date giving all credit to you with a link back to your post of course.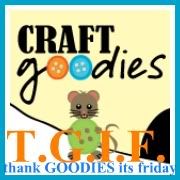 Have fun, can't wait to see what you've been working on and...
Happy Crafting!!!